PLINTH HEATERS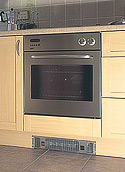 Click to Enlarge
CONSORT PLINTH HEATER - Various sizes
from
£35.00
Designed to provides instant heat where space is at a premium and discreet yet effective heating is required. Cleverly concealed in the 'kick space' beneath counters, displays and kitchen units, stairwells and fitted furniture, these heaters are suitable for both commercial and domestic environments. These slimline plinth heaters require a minimum kick-space height of only 100mm thereby offering increased installation options.
features & dimensions...
collection & delivery...
TO BUY THIS PLINTH HEATER CALL 01384 297452 or 01952 730577 LINES OPEN 8am - 8pm 7 DAYS
WHEN ORDERING SEE Info - Conditions of Sale...
Payment:
Cash, guaranteed cheque, Bank/Building society cheque, credit and debit cards.


Want to place an order? Need more information? Call - 01384 297452 or 01952 730577.
Lines open 8am - 8pm 7 days. FAX - 01384 824719. Email - info@hwelectric.co.uk.
We will be only too pleased to help you.